Our Acting program is designed for children to develop a wide range of skills through fun and to acquire self confidence while learning drama techniques and practicing Arabic language. 
 It is a joyful exploration of rhythm, dance, body language, facial expression and imagination. 
Students will perform on stage at the end of the program.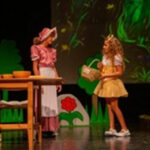 ACTING 2
Age Group: 11 to 15 years

Dates / Time : Mondays from 6:00 to 7:30 PM (90 mins)
    Tuesdays from 4:30 to 6:00 PM (90mins)
Fees: Minimum 12 sessions: 1500 AED+ VAT

Dates / Time : Thursdays from 5:30 to 6:30 PM (60 mins)
Fees: 12 sessions: 1200 AED + VAT
ACTING 1
Age Group: 7 to 10 years

Dates / Time : Mondays from 4:30 to 6:00 PM (90 mins)
Fees: Minimum 12 sessions: 1500 AED+ VAT
Dates / Time : Thursdays from 4:30 to 5:30 PM (60 mins)
Fees: Minimum 12 sessions: 1200 AED + VAT